News
Outdoor notes: With harvest down, Nebraska putting limits on deer permits
With Nebraska's permit quotas reduced for the upcoming deer seasons, hunters may find tags easily obtained in the past will be in limited supply.
With Nebraska's permit quotas reduced for the upcoming deer seasons, hunters may find tags easily obtained in the past will be in limited supply. They can help improve their chances of getting a permit by applying during the respective periods in June and July.
Changes to permit quotas are driven by changes in the field, notably a severe decline in deer harvest last year.
The 2022 deer harvest was down 11% statewide from the previous year and down 22% from 2020. Mule deer buck harvest was the lowest since 1981 and whitetail buck harvest was the lowest since 1994.
As a result, nonresidents will find fewer permits will be available to them.
Some of the permit changes for 2023 are:
Nonresidents will be limited to 10,000 total either-sex and buck-only deer permits. Youth and landowners are not included in that quota. 
Nonresidents will be limited to 15% of the available November Firearm permits in each of the following units: Frenchman Mule Deer Conservation Area, Platte MDCA, Pine Ridge MDCA, Upper Platte, Sandhills, Plains and Calamus West.
The statewide archery permit quota for nonresidents will be reduced to 3,000, from 5,000 in 2022. The permit also will not be valid for mule deer in the MDCA. Nonresidents wishing to archery hunt for mule deer in an MDCA unit must use either a Buffalo, Frenchman, Pine Ridge, Platte, or Republican MD MDCA permit; the archery season has been added to that permit to accommodate for that opportunity.
The statewide muzzleloader quota will be reduced to 1,000, from 2,000 in 2022. MDCA restrictions still apply.
Like previous years, antelope archery has a nonresident quota of 250 permits. General elk permits are not available to nonresidents.
Overall, the Nebraska Game and Parks Commission is reducing November Firearm permits available to all hunters by 5.9% and Antlerless Only Season Choice permits by 7.4%.
Whitetail harvest statewide largely remained stable in the years after a large outbreak of epizootic hemorrhagic disease in 2012. But between increased harvest due to depredation complaints beginning in 2019 and minor to moderated EHD outbreaks in 2021 and 2022, whitetail numbers and harvest are down over much of the state.
Mule deer harvest has declined greatly from record and near-record levels in many western deer units in recent years. But this decline in buck harvest and populations has been faster than Game and Parks anticipated. Additionally, cases of meningeal brain worm have been reported in several central and southwest deer units the past few years, and fawn production has declined significantly in recent years.
To read more about Nebraska's big game species and the permit application dates and processes, visit OutdoorNebraska.gov and search for "big game permits."
Commissioners to consider 2024 mountain lion season
The Nebraska Game and Parks Commission will consider recommendations for a 2024 mountain lion hunting season at its June 9 meeting in Alma.
The meeting begins at 8 a.m. Central time at the Alma Municipal Golf Course, 102 Dick Brown Memorial Drive.
For the first time, a harvest season will be proposed for mountain lions outside the Pine Ridge. If approved, a Niobrara Unit will be created, encompassing parts of Brown, Cherry, Keya Paha, Rock and Sheridan counties. The objective for the Niobrara Unit will be to provide a harvest opportunity for mountain lions that will allow the population to remain resilient and healthy, while slowing growth of the population.
Mountain lion presence has been documented in the Niobrara River Valley of north-central Nebraska since 2001. There has been a resident reproducing population there since 2013 and information gathered through research suggests a population that is growing and will be resilient to harvest.
Season 1 in the Niobrara and Pine Ridge units would take place Jan. 2 through the end of February. The season would end immediately in a unit if the annual harvest limit or female sub-limit were reached. The Pine Ridge limit would be four mountain lions with a sub-limit of two females, and the Niobrara limit would be two mountain lions with a one female sub-limit. Up to 320 permits would be issued by lottery in the Pine Ridge Unit and up to 160 permits will be issued in the Niobrara Unit. An auxiliary season would be held March 16 through the end of March if the annual harvest limit or female sub-limit were not reached during Season 1 in a unit.
The Commission also will consider changes to the river otter trapping season. The proposal would eliminate the overall season harvest limit and simplify the check-in process by allowing them to be checked within two days after the close of the season and before the sale or transfer of the otter. The requirement of daily checking of season status would be eliminated as well. The proposed season would be Nov. 1, 2023, through Feb. 29, 2024. Each harvester would be limited to one otter per season.
In other business, staff will recommend changes to sportfishing regulations that would allow archery paddlefish permit holders to harvest paddlefish in the spillway below Gavins Point Dam. The north wall and discharge canal would remain closed to archery paddlefish fishing.
The Commission also will consider renaming the Nebraska Game and Parks Outdoor Education Center in Lincoln the Nebraska Game and Parks Turpin Outdoor Education Center in the memory of Dick Turpin, a longtime Game and Parks employee and outdoor enthusiast.
Staff also will conduct a presentation about the recently completed Wetlands of Nebraska Outreach and Education project, which produced a series of products to increase awareness of the importance of wetlands in Nebraska.
To view a complete agenda, visit OutdoorNebraska.gov and search for "public notices." To view proposed changes to Commission regulations and orders, search for "regulations."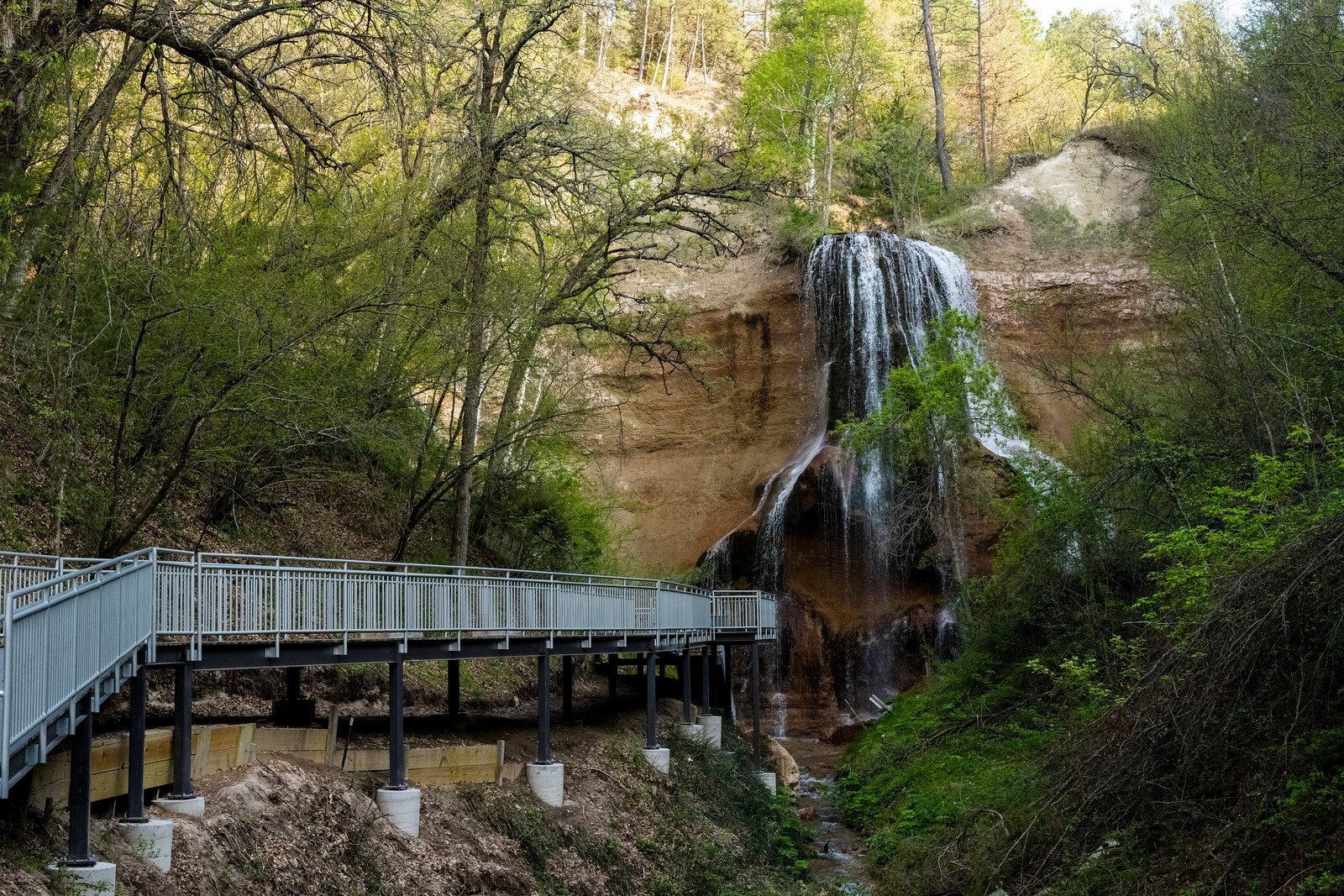 Smith Falls reopens with new boardwalk
Visitors are again enjoying the sight of Smith Falls, Nebraska's tallest waterfall.
The waterfall at Smith Falls State Park, and the newly constructed 500-foot boardwalk to it, reopened May 26 with only finishing touches remaining in the process.
The waterfall, which has long been popular for the thousands of people floating on the Niobrara River each summer, closed September 2022 for replacement of the aging wooden boardwalk.
The new boardwalk is constructed of composite decking on a steel frame with aluminum handrails, and is compliant with the Americans with Disabilities Act. New benches provide places for visitors to rest and a platform over the stream has been added midway up the walkway to allow for viewing of the falls from a scenic vantage. Visitors may still access the bottom of the 63-foot waterfall from steps at the boardwalk's north end.
The project largely was funded by Capital Maintenance Funds, which were established by the Nebraska Legislature in 2016 to help preserve Nebraska's public outdoor recreation facilities and parklands; state and federal funding sources; and Nebraska Game and Parks' funds generated from user fees of the state park system.
Also reopened to the public is the adjacent 1.5-mile Jim MacAllister Nature Trail.
Smith Falls State Park, a 19-mile drive from Valentine, offers non-electric campsites, picnic tables, pay showers and a visitors center with concessions. The waterfall is accessible to pedestrians by the historic Verdigre Bridge that crosses the Niobrara River. A Nebraska State Park Entry Permit is required for vehicles that enter the park.
Enroll lands in Open Fields and Waters to allow public access
The Nebraska Game and Parks Commission is looking to provide additional hunting and fishing opportunities on private lands through its Open Fields and Waters Program.
Landowners willing to allow public, walk-in access for hunting or fishing can receive annual, per-acre payments through the program. Participating landowners are afforded liability protection through the Nebraska Recreational Liability Act. Additional financial incentives often are available for habitat improvements, such as Conservation Reserve Program enrollment or management upgrades.
Game and Parks primarily is seeking to add the following types of enrollments, but all properties offering high-quality hunting or fishing opportunities will be considered:
Conservation Reserve Program – CRP fields provide excellent hunting opportunities for upland game birds and acres in any part of the state will be considered. Landowners can receive up to $20 per acre for CRP, depending upon location and habitat quality.
Wetland Reserve Program easements – Landowners who have Wetland Reserve Program easements can earn up to $15 per acre for accessible portions of WRP easements with suitable habitats.
Grasslands – High-quality grassland habitat that provides mixed-bag hunting opportunities for upland game birds and big game species are being sought statewide. Properties in the Sandhills supporting prairie grouse, mule deer and/or antelope are a priority, along with sites in south-central and southeastern Nebraska that offer quail and/or white-tailed deer hunting opportunities.
Woodlands – Heavily timbered areas along riparian corridors and those with canyon-like topography are being pursued in many areas. Rates for high-quality woodlands range from $3 to $25 per acre, depending on habitat quality and location.
Fishing access – Ponds, lakes, warm-water streams or rivers and cool-water streams with trout are potential targets. Payment rates are per surface acre on lakes and ponds and per stream mile on streams or rivers.
For more information about Open Fields and Waters, visit OutdoorNebraska.gov and search "Open Fields and Waters." Interested landowners should contact a biologist at their nearest Game and Parks district office or service center (OutdoorNebraska.gov, scroll to Locations tab at the bottom).
Since 2016, more than 137,000 acres have been added to Open Fields and Waters with more than 850 private landowners participating in the program in 2022-23. Those landowners provided walk-in hunting and fishing opportunities across 372,000-plus land acres, more than 500 acres of ponds and lakes and more than 41 stream miles.
Funding for the Open Fields and Waters Program primarily is provided by a grant obtained through the U.S. Department of Agriculture's Voluntary Public Access – Habitat Incentive Program and Pittman-Robertson funds (Wildlife and Sportfish Restoration Act). In addition, Game and Parks uses funds from Habitat Stamp and hunting license sales, and contributions from partners to fund the program and increase opportunities for hunting, trapping and fishing on Nebraska's private lands.